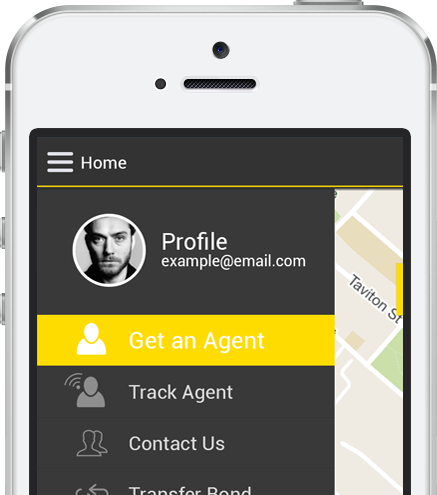 app overview
INSTA-BAIL provides Bail Agencies with the ``FIRST EVER`` dispatching software.
Increase your efficiency! Increase your sales!
Professional AgentsTrained & Licensed with most Sureties.
Our Posting Agents have been trained to properly service your business, get you complete and accurate information and provide you with the service you deserve.
"Your" Company's DispatchDispatch your team and watch them work.
You may chose to use your posting agents, only.  That's cool!  Our software can be your company's dispatch center, but still keep the features of referring bail, tran
Track the AgentGPS Tracking
Like UBER, watch the dispatched agent travel to the location of your service request.  Know where the agent is at during the post.
Our Agent is Your AgentUse us, we don't mind
We are like a temp agency for posting agents. We train the employee , appoint to your Surety & State Registry. Voila! They are your posting agents.
Make More MoneyAs we grow, you grow
Use the application to send or receive bail referrals.  Use our posting agents to post where you normally wouldn't travel.  Receive requests for bail from other states.
Additional FeaturesAlways changing to better serve you
Stand Alone Dispatch Software, Transfer Bonds, Refer & Receive Bail, BlackList & Bad Debt Search, Have Licensed BEA bid to pick up your skip & more..
Close-Up
Get a little closer to the graphics. Hover to Magnify
Get up close and personal with our app!
Coming soon, INSTA-BAIL Posting Agent Service
Know what it does. Just in case.
Professional Posting Agents Available Within Seconds
UBER for Bail Companies
24/7 posting agents
track location of agent
complete files
accept bail everywhere
upload pics and files
fast service
call or text agent
extend your reach
transfer bonds
refer bail
get bounty hunters
coming soon
don't forget to tell your friends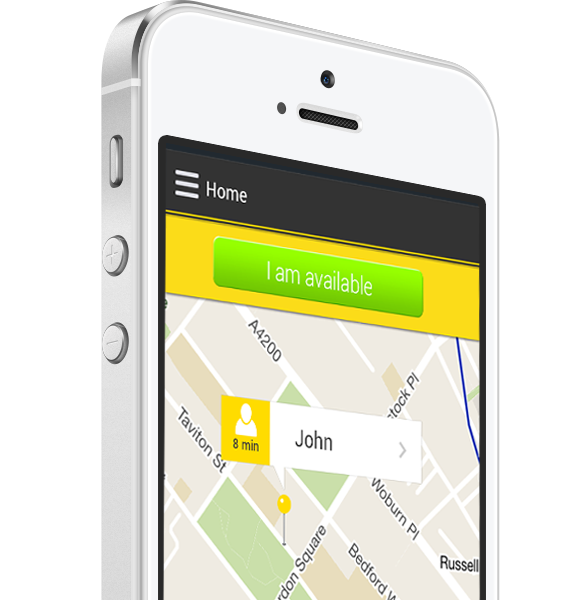 How does it Work
You Answer, Let Us Post. Professional Posting Agents
Empty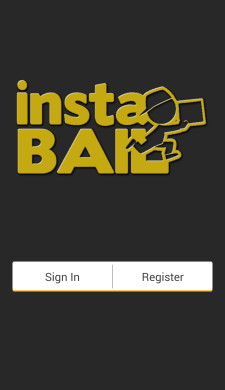 INSTA-BAIL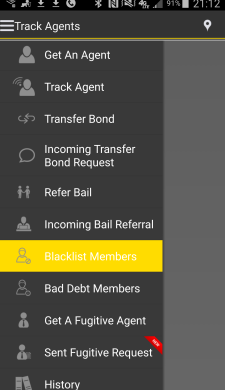 Company Side Bar
Full Profile Information
Enter information about your company
Get an Agent
Press this and it will take you to a Request for Service page
LogIn or LogOut
We advise you to stay logged in, in case of a Transfer Bonds Request
Always have an Agent at your fingertips
Iphone and Android Compatibility
Track Your Agent
Track Agent and See how far they are
More Money....
Transfer Bond, request or receive transfer bonds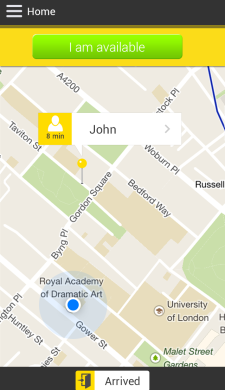 Agent's View
Home
Easy & Convenient Home Access
Where Am I
Shows Your Location in Comparison with Your Defendant
Where is Defendant
Shows the location of your Defendant
Available or Not
Agent Makes Themselves ``Available`` or ``Not Available``
Full GPS Tracking System
The application works with your mobile GPS giving you directions to your defendant
I'm Here
Arrival Button to Advise Agency You have Arrived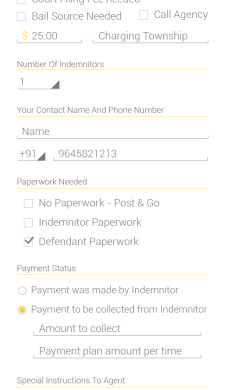 Enter Defendant Information
Enter Defendant Information
Easy to enter the defendant's name, location, bail amount and more...
Indemnitor's Information
Who are the co-signers that will be meeting the agent
To Collect or Not to Collect
Advise the Agent to Collect the Premium
What to Post
You can enter the bail amount and what town holds the warrant
Everyone Can Use
Available for iPhone, Android and Web
Extend Your Reach
Bail Out Defendants from anywhere in the World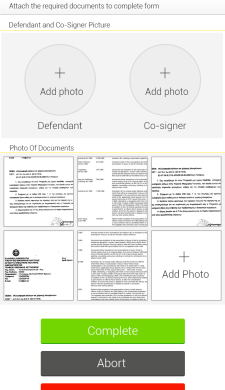 Agent Upload
Take and Upload Defendant & Co-Signer Pics
Take as many pics as possible to add to the file
Instant Reporting
As soon as the post is done, your get the file. No More waiting for your Sub-Agents to report
Upload Forms and Application
Agents can upload PDFs of the Power and Applications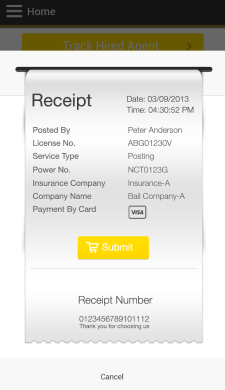 Receipt
Confirm Receipt
Confirm Agent has completed with a receipt and an email with all attachments
Empty
Pricing Table
INSTA-BAIL is a must have for bail companies. YES!!!
Open the possibilities, Extend your reach & Get Professionals, Now!
Monthly
$ 20.00

Month

Dispatch Your Own Employees or...
Hire Insta-Bail Posting Agents
Get Paid Instantly
Receive Defendant Files Instantly
Transfer Bonds (insurance approval required)
Refer Bail (make money)
BlackList & Bad Debt List
Get Professional BEA's
*.99 per bond request. Pay as you go.
Flat Fee 50
$ 60.00

Month

(save 20% and get 50 posts per month)
Hire Posting Agents
Get Paid Instantly
Receive Defendant Files Instantly
Transfer Bonds (insurance approval required)
Refer Bail (make money)
BlackList & Bad Debt List
Get Professional BEA's
Flat Fee 100
$ 80.00

Month

(bigger company? get 100 post per month)
Dispatch Your Agents
See their GPS Location
Keep a History of Your Dispatch
Receive the File & Pictures
Immediately
Still enjoy the other features of Insta-Bail!
Additional Features
New features being added to INSTA-BAIL
Stand Alone DispatchUse your own
Use INSTA-BAIL as your stand alone dispatch center.  If you do not wish to utilize the hundreds of professional posting agents in your area and want to use your own agents, we can
Hire Fugitive Recovery AgentsGet help immediately
Use INSTA-BAIL to hire professionally licensed bounty hunter within your. state.  Enter the state service is needed, amount of bond, days left on forfeiture, amount you are willin
Refer BailKeep making money
In some states, using a professional bail posting services is not permissible, even though it would assist the bail process making it more efficient and more money.  So if you hav
BlackList & Bad DebtCommunication is key
If you have a skip or a co-signer/defendant who won't pay you.  Tell other agencies about your experience.  Use this tool to communicate with agencies around the state &amp
DiscountsSaving you money
Our affiliates have offered INSTA-BAIL discounted prices on their services.  Please use the application to find an affiliate attorney, collection agency and other services needed
Transfer BondsRequest and Receive Transfer Bonds
Have a bail request in another state?  No problem, request and transfer bond  Want to make more money?  Accept a request of a transfer bond  With NO LIABILITY!